Ashby Lumber has been in the building material industry for over 50 years. Ashby started by offering basic bathroom fixtures to meet the needs of our customers and quickly  grew into a full-service Kitchen & Bath Design Center that has been around for over 30 years serving the Greater Bay Area.
We are the only lumber yard that offers designer fixtures with great value and service. Our services and products are adaptable, functional and durable. Behind every design is a story and that story starts with you. Our passion is to help you create the kitchen and bathroom of your dreams – enjoyable living spaces that turn into enjoyable experiences. Dream big – we'll take care of the details.
Visit our Kitchen & Bath Design Center in Berkeley (or take virtual tour below) for everything you need for your next project today!
Featured Product: Kitchen Cabinets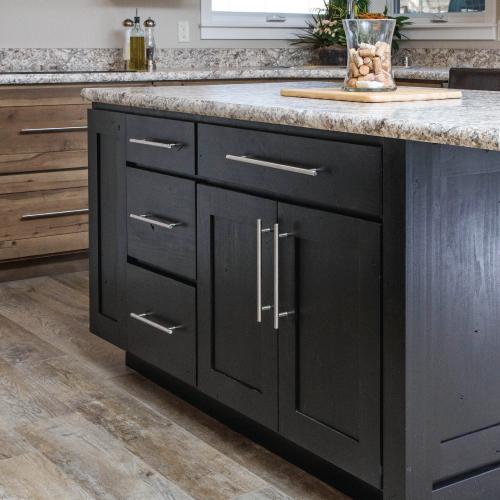 The difference made by updating the kitchen cabinets will set the tone for the entire home, as the kitchen becomes the favorite gathering place for the whole family this summer.  Schedule a free consultation with one of our design specialist and receive special pricing on your kitchen cabinet purchase. Click the "Request A Quote" arrow below to schedule your appointment today. 
Traditional. Elegant, inviting and reminiscent of a not-so-distant past, traditional cabinet styling is best summed up as ornate, rich and decorative. Usually embodying the golden age of Europe, traditional design styles use a variety of colors, elaborate motifs, and a blend of materials to breathe new life into century-old styling. In today's hurry-up world, this design style maintains order and refinement through symmetry and balance.
Transitional. Transitional style refers to a mix of traditional and modern furnishings, fabrications, and decorative features that lend you more freedom when looking to decorate your home with ease as there is no end to the direction you can take this design style.
Contemporary. Contemporary design is sleek and minimalist by nature, giving your home a streamlined and clean look. To achieve this effect, contemporary kitchen cabinets generally have flat surfaces and minimal ornamentation.
We take the time to undestand your lifestyle and home to ensure your dream room is realized and you make the most of the available space. Through our design process, our experts will take you step-by-step using the latest in design software and techniques to make your dream space come true.
This initial phase consists of a jobsite visit where our designer completes the prerequisite form that results in simple schematic drawings and general cost estimates. Design solution and budget parameters may be established and the proposed concept drawings and budget are presented for review and discussion.
PHASE 2: Revisions/Changes
During this second phase, the floor plan is developed into a more detailed set of drawings based on feedback from Phase 1. Here, specific products are identified or allowance ranges are established for the revised drawings and the overall project budget.
During this phase, the final project drawing with product specifications are presented for final approval. The final contract will specify all equipment and materials or dollar amount allowances.
PHASE 4: Decorative Details
In this phase, the actual costs of specific decorative products and equipment are compared to the contract allowances and revised contract or change order is prepared.
FINAL PHASE: Final Project Rendering
In this final phase, customers will receive a final design drawing which will include one floor plan with elevation/interpretative view according to the National Kitchen & Bath Association guidelines. Ashby Lumber will also provide the final proposal for all products and surfaces.