Ashby Lumber has beautiful bath and kitchen showrooms inside the Berkeley store that features a wide variety of kitchen and bath products. Our team of kitchen and bath experts can help you with anything from choosing the right fixtures and finishes for an existing kitchen or bath to helping you design a brand new remodel. 
Visit our Kitchen & Bath Design Center in Berkeley (or take virtual tour below) for everything you need for your next project today!
Kitchen & Bath Design Process
We take the time to undestand your lifestyle and home to ensure your dreams are realized. Through our design process, our experts will take you step-by-step using the latest in design software and techniques to make your dream kitchen or bath come true.
This initial phase consists of a jobsite visit where our designer completes simple schematic drawings and general cost estimates. Design solution and budget parameters will be established and the proposed concept drawings and budget are presented for review and discussion.
PHASE 2: Revisions/Changes
During the second phase, the floor plan is developed into a more detailed set of drawings based on feedback from Phase 1. Here, specific products are identified or allowance ranges are established for the revised drawings and the overall project budget.
During this phase, the final project drawing with product specifications are presented for final approval. The final contract will specify all products and materials or dollar amount allowances.
PHASE 4: Decorative Details
In this phase, the actual costs of specific products and equipment are compared to the contract allowances and revised contract or change order is prepared.
FINAL PHASE: Final Project Rendering
In this final phase, customers will receive a final design drawing which will include one floor plan with elevation drawing. Ashby Lumber will also provide the final proposal for all products and materials.
Traditional. Elegant and inviting, traditional cabinet styling is best summed up as ornate, rich, and decorative. Traditional design styles use a variety of colors, elaborate motifs, and a blend of materials. This design style maintains order and refinement through symmetry and balance.
Transitional. Transitional style refers to a mix of traditional and modern furnishings, fabrications, and decorative features that lend you more freedom when looking to decorate your home with ease as there is no end to the direction you can take this design style.
Contemporary. Contemporary design is sleek and minimalist by nature, giving your home a streamlined and clean look. To achieve this effect, contemporary kitchen cabinets generally have flat surfaces and minimal ornamentation.
Kitchen and Bath Cabinets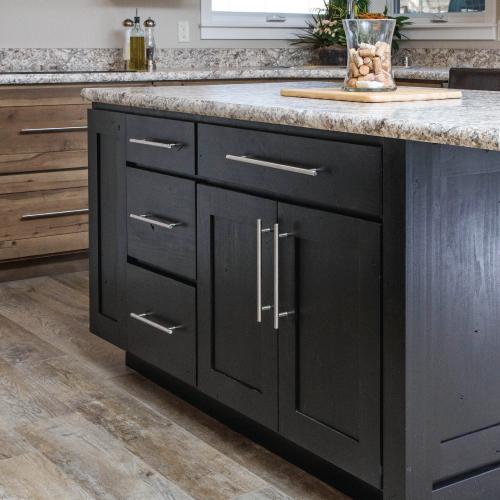 Ashby Lumber proudly offers custom and semi-custom kitchen and bath cabinets from Crystal Cabinets and Crown Cabinets. Schedule a free consultation with one of our bath and kitchen showrooms and design specialists. Click here to schedule your appointment today.